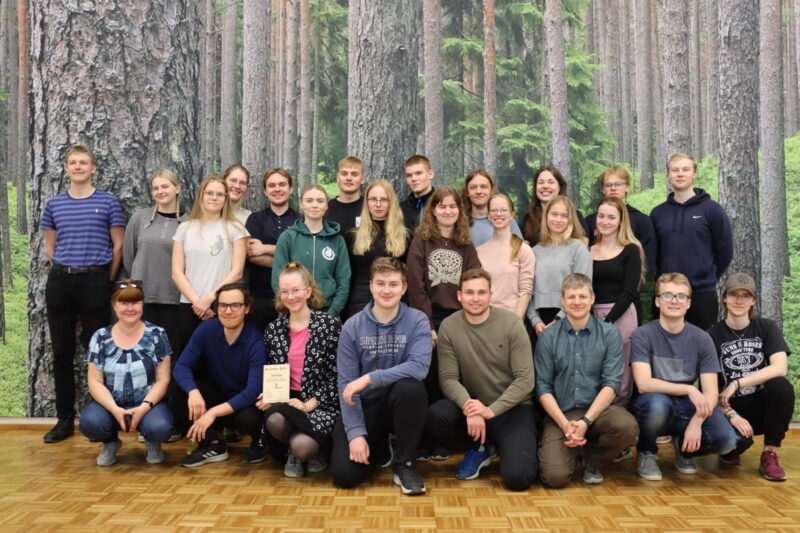 In the spring of 2023, the Estonian national stage of the Young People in European Forests took place. The stage consisted of two parts: the preliminary round and the final. More than 235 teams and 650 young students from all over Estonia participated in the preliminary round where they had to answer to 50 forestry questions.
The best 9 teams made it to the two-day finals which took place in Luua Forestry School. The final consisted of three parts. Firstly, they had to orientate in the forest and solve seven tasks at designated locations. The tasks included knowledge of a bachelor's degree in forestry:
1) determining site type;
2) determining birds and animals (game species);
3) determining tree species using shoots;
4) determining cones, fruits and wood funguses;
5) estimating young forest density;
6) visual assessment of tree height and diameter;
7) determining site index.
Secondly, they had to do a quiz and third was a creative task. For the final, each team had to prepare a short educational video on topic "Wood around us". This was a good opportunity for young people to demonstrate the increasingly important digital competences in forestry today. All those who participated in the final received a free entry with their family to Estonia's new and interactive forest museum. All the students and instructors also received wooden letters of thanks. The top three were awarded with the opportunity to go on an adventure trip to Estonian nature with their team.